The Contact Profile (best referred to as a "Portfolio") is where you manage all information relating to a that Contact. There are 2 standard types of Contacts in MYcarnegieOS:
| | | |
| --- | --- | --- |
| Contact Type | What Is It? | Building Relationships |
| Person | This can be anything from a Lead, to an existing Customer or Supplier. | A Person can be related to one or multiple Organizations.For Example, if an individual works with multiple Organization, you can define that relationship here. |
| Organization | An Organization is a separate company or business, not an individual person. They can represent anything from a Supplier company, to Contractors or Clients. | An Organization can be related multiple People (employees), and even to other Organizations.For example, If you have multiple branches of an Organization you deal with, create an Organization Contact for each branch and relate it back to the Headquarters branch. |
Users will appear in the Address Book as a Person, with their own Contact Profile.
Contact Profile Tab
The Contact Profile Tab contains all the standard Contact information, including some key CRM field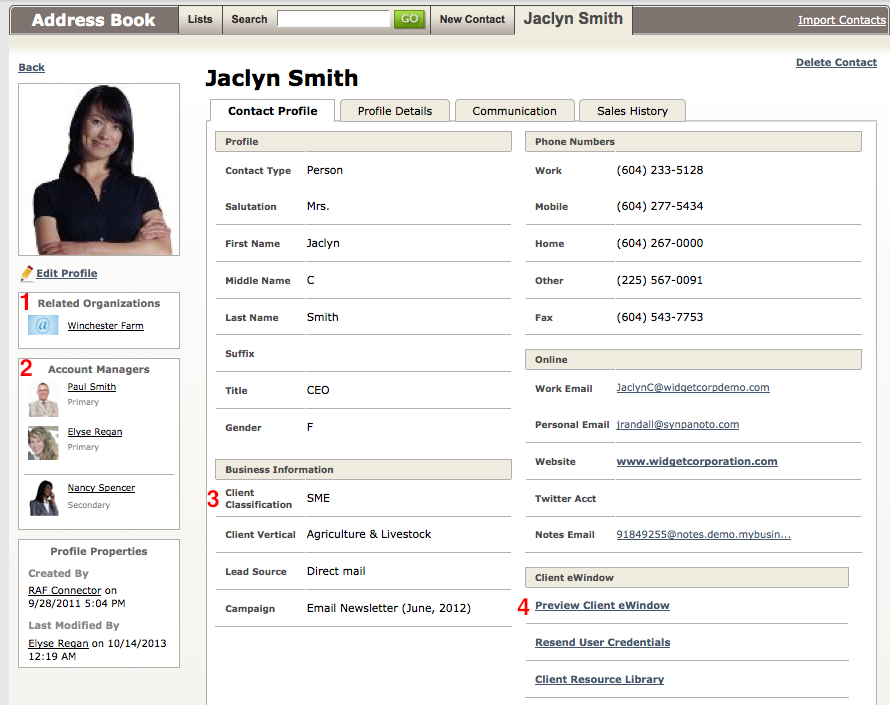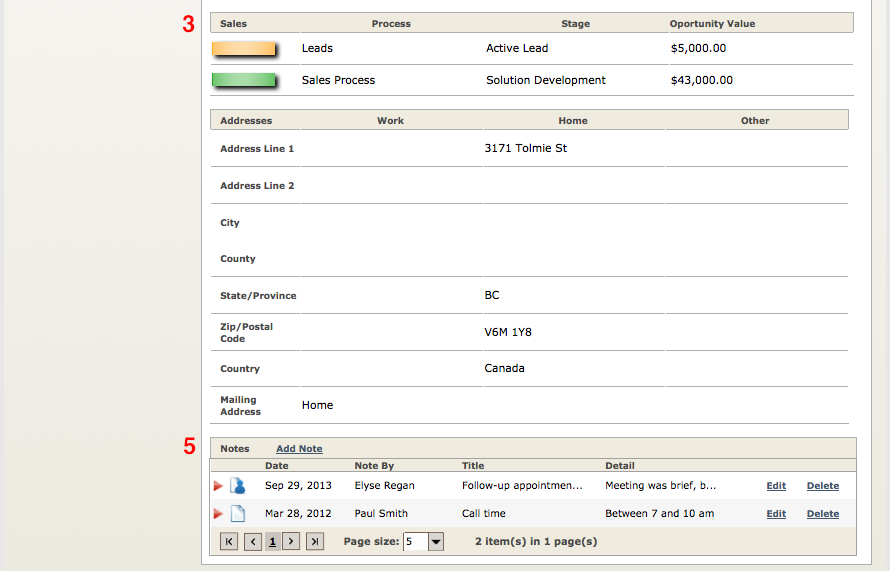 The Related Organization / Company of the Contact. There can be multiple Related Organization.
Account Managers: You can assign one or multiple Primary or Secondary (backup) account managers to a Contact.
Key CRM information, including:
Client Classification
Client Vertical
Lead Source
Sales Process
See more on your Sales and CRM features
Client eWindow information: Links to help you setup and start using your Client's eWindow (portal).
Setup Your Individual Client eWindows
Additional Notes: Notes can be set as private or public, to be shared with others in the organization.
More on Contact Notes
Profile Details
This tab contains all the Custom Fields you have defined for your company. Configuring Custom Fields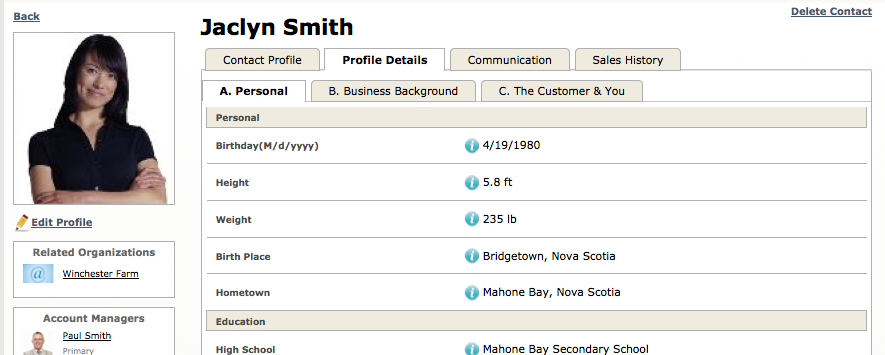 Communication Log
The Communication Log tracks all activity related to a Client. Read More about the Communication Log.

Sales History
If your Financial application is integrated with you OS, this is where you will find all the Sales and Invoice history related to that Client.
See more on the Financial Integration